Guangzhou shopping -wholesale markets and retail shopping street
Maggie Qu


11/14/2017 04:10AM

Wholesale Markets
Tourists or visitors can try shopping in the wholesale markets and find good bargains on single items or small quantities if a salesperson will entertain you. Often they won't.
Clothes Wholesale Markets
Guangzhou's clothes wholesale business is very vibrant, and there are many clothing wholesale markets in Guangzhou. The most famous are around Guangzhou Station:
Baima Market is the most popular single market and gets the highest turnover for high end clothing and fashion (located opposite Guangzhou Railway Station 16 Zhan Nan Road Zhan Nan Road 站南路16号白马服装批发市场). Listed 8 of 184 Best Shopping on TripAdvisor (2016).
Zhanxi is a shopping area with many wholesale markets (near Guangzhou Station and the Provincial Bus Station 1-4 Zhan Xi Rd 站西路1-4号东侧)
Liu Hua is near Guangzhou Station and adjacent to the Provincial Bus Station. It is actually a giant large market cluster with 13 clothing wholesale centers including Baima, Bubugao, Tianma clothing market, Xindadi, and Fuli (194 Huan Shi Xi Road 环市西路194号).
Xindadi is situated opposite Baima and mainly sales woolen sweaters and cardigan (part of the Liu Hua market area)
Hongmian Bubugao is located behind Baima and famous for women's clothing (part of Liu Hua market area)
Guangzhou is only 106 kilometers (65 miles) from Shenzhen. Click to enlarge the map
All the above major markets are concentrated around the Guangzhou Railway Station at the center of Guangzhou. You can go there on the bullet train from Luohu in Shenzhen or the Guangzhou Subway Line 2.
Several other huge wholesale markets are in other places:
Tianma is 1,000 shops in a ten story building and famous for domestic brands especially, but it also has leisure wear, international brands, business suits and furs (168 Huanshixi Road, Yuexiu District)
Shahe Wholesale Market is one of the cheapest or the cheapest wholesale clothes market areas in Guangzhou. It is perhaps bigger than the one around the Guangzhou Train Station. It is just to the east of Guangzhou East Train Station in Shahe in Tianhe District (Shahe Street, Tianhe District. Take Line 6to Shahe Station 沙河)
Wanjia Clothes Wholesale Market is a part of the Shahe market area. (Take Line 6 to Shaheding Station 沙河顶 that is at the western side of the Shahe market area).
Electronics Markets
Shenzhen has a better reputation for sourcing electronics. For good quality retail electronics, most would say buy in Hong Kong to be sure of quality.
Cheap electronics and components can be found in numerous shops and stores along Jiefang Zhong Lu, Zhongshan Liu Lu and nearby Huifu Xi Lu.
Electronics Haiyin Square (海印广场) is a big market for electronics (21 Dashatou Road, Yuexiu District 越秀区大沙头路21号). It is near Haiyin Computer City (海印电脑城 56-58 Donghu Road. The Haiyin market area can be reached at Line 6 Donghu Station 东湖)
Retail Shopping Streets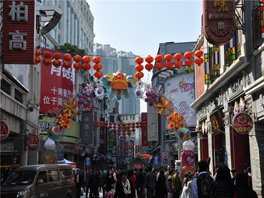 Shangxiajiu Pedestrian Street
Most tourists shopping for personal needs will prefer shopping streets designed for tourist enjoyment.
Beijing Road 北京西路 is the most popular shopping street among foreigners listed #1 on TripAdvisor for places to shop. It is brightly lit with many restaurants and designed for tourists. It is very easy to get to by taking the metro to the Gongyuanqian Station.
Shangxiajiu: Hundreds of shops including many department stores are along this 1,218-meter street. The whole area has 10 adjacent shopping streets. The main goods are clothing, cloth, and tourist items. It is known for its Cantonese restaurants and street snacks. Rated #4 on TripAdvisor. Take Line 1, get off at Changshou Road (长寿路), take Exit A, and walk about 500 meters along Baohua Road (宝华路).
Read A Half Day or Day Tour suggestion including Shangxiajiu.
Luxury Malls/Tall Towers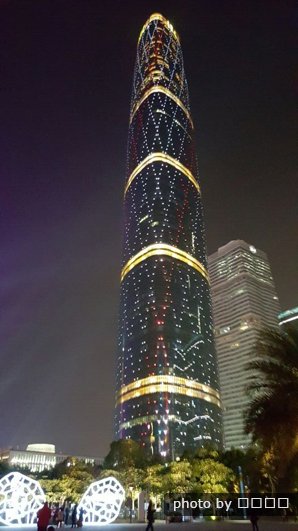 Guangzhou International Finance Center is lit brightly at night
The best sightseeing in Guangzhou is at the Zhujiang New Town area along with ritzy shopping. The Guangdong Museum, very high buildings with observatories, and ritzy malls make the area a tourist highlight. Ease of transportation makes visiting convenient.
CTF Finance Center Tower/mall: Guangzhou's newest highlight is the world's 7th tallest tower. The massive structure has restaurants and an observatory on top (the city's highest and the world's second highest), and a luxury mall at the bottom. It is next to another super tall building and mall called the IFC Tower in the new luxury shopping area of Tianhe District.
Mall of the World: One of the malls to visit is underground under the large plaza next to the IFC Tower. Its many restaurants are places to stop and relax.
Bargains? However, don't expect many advantages shopping for luxury products or high fashion. High tariffs makes Hong Kong better for that. See What Mainland Expats Want to Buy in Hong Kong in 2016 to see what the relative advantages of shopping in Hong Kong might be. Hong Kong is close enough for a half-day shopping trip.